Why is the price range you offer more affordable compared with others?
Because the secret is the size of Echizen paper (Japanese handcrafted paper)
If we lay the notebook over the Japanese paper together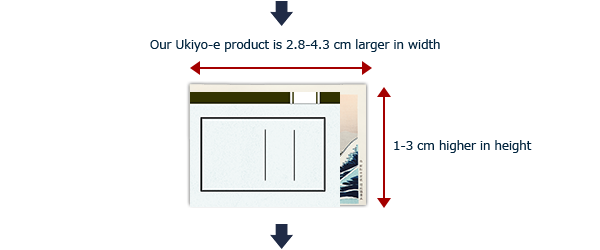 Our Ukiyo-e is slightly larger than the A4 size notebook. It's very handy.
・Thirty-six Views of Mt. Fuji
Approximately 32.5 cm X 22 cm
/ print dimension Approximately 29 cm X 19.5 cm
・The Fifty-five Stations of the Tokaido
Approximately 34 cm X 22.5 cm
/ print dimension Approximately 31 cm X 21.5 cm
・A Selections of Toshusai Sharaku
Approximately 34 cm X 24 cm
/ print dimension Approximately 31 cm X 21.5 cm
・The best selections of Utamaro
Approximately 40.5 cm X 28 cm
/ print dimension Approximately 37 cm X 25 cm
※These are the larger size


About our medium size: approximately 32.5~34cm×22~24cm
Depending on the purpose, Ukiyo-e paper size varies, but it is almost always uniform.
The most common size is the larger size (approximately 38cm×26cm), which is commonly used for other companies' reproduced products. We offer products with one size smaller, which is medium size (approximately 32.5~34cm×22~24cm). This enables us to set a price which is easily affordable for customers (excluding some products).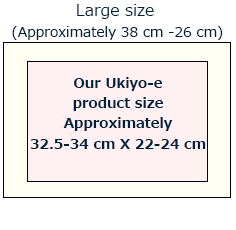 Considering the production process only, both large and medium sizes have the identical process. However, if the size becomes smaller, the process becomes finer; it takes more time and cost.
Even so, we would like to pass down the Ukiyo-e to now, one of the exclusive treasures of Japan, forever, and we would like many people in our modern era to know and feel about Ukiyo-e.
To achieve that, we strive to minimize the cost to offer affordable as possible a price to our customers. Originally, Ukiyo-e was produced for the general public. It is our pleasure if you will be able to feel the life of the Edo period was the most glamorous and lively era in Japanese history.

The back of frame


Frame size: width 44.5 cm X length 37 cm
Mat size: width 28.5 cm X length 19 cm
Weight: 1,320g


This size is easy to handle, enabling you to carry it without any troubl
Our reproduced edition of the Ukiyo-e woodblock print is medium size (approximately 32.5~34cm×22~24cm), excluding some products. It is easy to pack in your suitcase. We pack the purchased items securely so that you can take the items with you overseas without worrying that they may be bent.

Showing the sheet size holding in your hand


Item in the frame


A sheet (wrapped securely) in the suitcase


–


A sheet within the frame (frame is wrapped securely) in the suitcase


※Suitcase size in photo: Outer dimension about 73X55X25cm (width) Inner dimension about


The secret of Ukiyo-e reproduction. Until Ukiyo-e reproduction is produced.
Just printed Ukiyo-e reproduction has a vividness of colors and texture as the one people in the Edo period had. How do the masters make the Ukiyo-e reproduction? We are introducing the masters' works passing down from the Edo period to now in the following page.




Complete services. Reliable packing and customers' voice
We offer complete services responding to the various needs for our customers, such as corporations, those outside of Japan, and gifts.
Click the information in the menu. Detailed explanation is provided.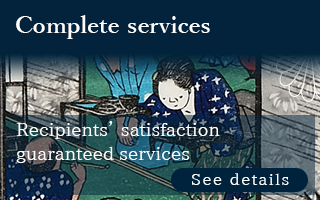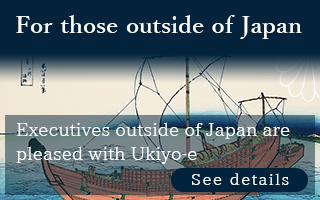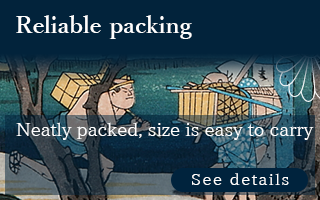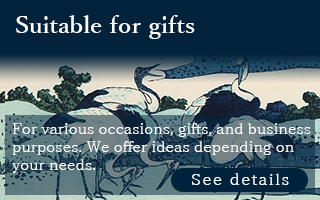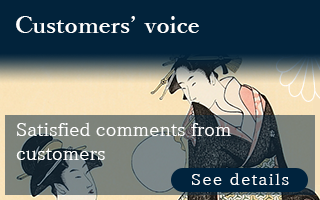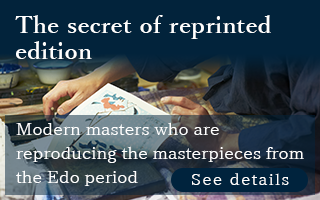 Responding to various orders and offer payment methods: Shopping guide
We can take your order online, by phone, or by fax.
Shopping guide page explains details not only for ordering systems, but also payment methods, shipping, packing, and required documents.