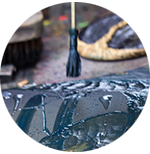 People producing Ukiyo-e woodblock prints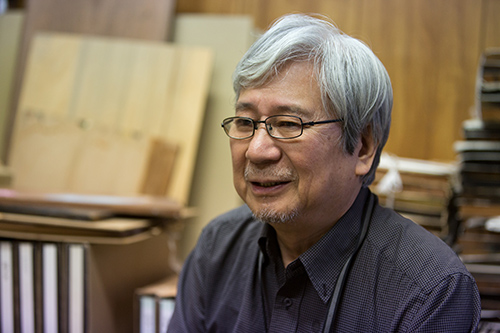 Suri-shi, Woodblock printing master Mr. Keizo Sato
Profile
President of Sato Woodblock Print Center
1959 Graduated Hiyoshigaoka High School, Kyoto, Art Course, Japanese Painting (Formerly Kyoto Bikou)
2004 Selected as Distinctive Traditional Industrial Skilled Craftsman of Kyoto Prefecture
2007 Received recognition from Agency of Cultural Affairs
2009 Granted the Medal of Yellow Ribbon for Industriousness
Current vice-chairman of the Association of Ukiyo-e woodblock print carving and printing technique preservation (Chair of Kyoto Branch), a member of Kyoto Takuminokai, International Ukiyo-e Society
---
The echoing sound of three baren (rubbing pad) running on the Japanese paper.
Three apprentices were sitting each on the Japanese cushions, their hands and arms were working at the job in front of them and gazing.
We watched their fingers without breathing right at the moment when they placed washi, the Japanese paper, on the block.
The shutter noise sounded too loudly. When the paper was placed on the woodblock, they put a baren to their cheeks. And again, they started running baren on the paper.
We asked why they put the baren to their cheeks. They said that usually they put the camellia oil, but it was too oily. So, the cheek temperature is just as good and made the baren run smoothly.
This is the nice brisk atmosphere where the Ukiyo-e woodblock prints that we see now are reproduced. Mr. Sato was watching his apprentices work gently as if he were their father. We interviewed Mr. Sato in the room where his precious woodblocks were piled up.
Tell us the story of why you became a printing master.
My father used to do this work. I am the second generation.
Fifty years have passed already since I took over my father's job. After I graduated high school, I worked for others for two years. They were our customers producing Christmas cards. We printed Christmas cards a lot back then. I wanted to learn how they were produced and marketed, so I worked for them. I started learning from my father when I was twenty years old. I went to art high school and wanted to be a Japanese painter at the beginning.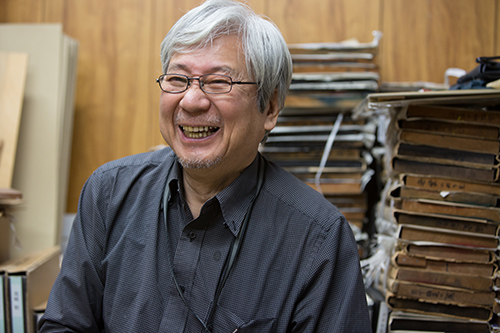 You had something else you wanted to do.
Yes, actually. But, I gave up because I had to take over our family business.
Since I was in the 5th grade, I helped with the family business after school rubbing the back of Japanese fans made for Takashimaya and Daimaru Department store and rubbing logos onto envelops and writing pads. It is said from years ago; ten years is a practice for carving and woodblock printing masters. In my case, I was helping with the family business. Although I started professional training when I was twenty years old, people said that I learned in less than 10 years.
Other than learning from your father like you did, how are woodblock printing master's skills passed down?
I am the second generation, but there are families with fourth and fifth generations. Another option is schools. Since we corporate with Kyoto Seika University, students come to learn. We teach them some traditional techniques and exclusive craftsman's skills such as pressure balance of hand and arm when holding a brush. Those are not taught at school.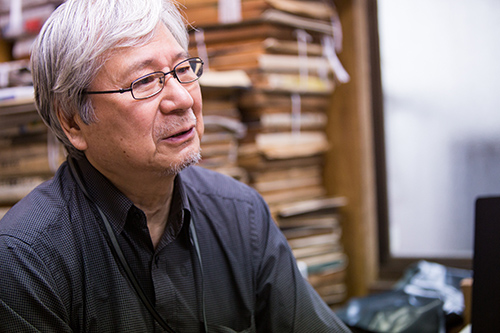 As for baren, we heard the number of stores which sell baren is declining.
There is a store producing baren in Tokyo. They have very excellent quality baren.
Baren is like the hand of woodblock printing masters. It is a life-long tool for us.
When it is new, we can use them with much pressure; however, if we use it for years, baren becomes weaker naturally. But, there is a way to handle it when it becomes weaker. In this meaning, baren is a life-long tool for us.
"Baren is a life-long tool" are very meaningful words. What is the life of a woodblock?
Well, a temple owns a woodblock of a mandala from the late Edo period. I have worked on it many times. It is in good shape and fine lines remain without any missing. Usually the monks rub woodblocks that temples have. Unfortunately, if so, the woodblock will be ruined for they do not have the specialized skill. Therefore, if the professional woodblock printing masters take good care of it, it will last for years.
By taking good care of it for many years, woodblock printings have been loved for a long time.
Looking back, is there anything you think that is a distinctive technique Ukiyo-e woodblock prints?
That is definitely, kento (mark). It is extremely important for Ukiyo-e. Because people invented kento, Ukiyo-e has survived. For Europe, it is a resister mark. But, it is easy to slip to match. Kento is very simple but it makes the paper just match. If there were no kento, the mass-printing system would be impossible. Because of this, I would think that kento is the distinctive invention.
Also, "bokashi" (air brushing) is significant. People say that ichimonji-bokashi (one of the styles of air brushing in the rubbing process of woodblock printings) should be the same for the entire work, but the personality of the craftsmen appears, I think. There are many differences for preference, from a craftsman who does it very beautifully, a person who likes it, or a person who loves air brushing without understanding it.
Therefore, airbrushing shows personality. If one publisher says, "I like it," I get to know that they like that taste.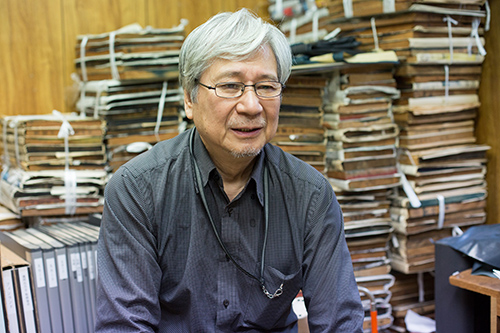 Do you think attention to Ukiyo-e woodblock prints abroad has been changing?
People outside of Japan seem to have an interest in the techniques of Ukiyo-e.
Previously, I visited Estonia with a carving master. When he showed kewari technique, carving fine lines of hairs, he received great applause from the people. Before people saw his demonstration, they had a doubt, "Do you carve those fine lines by hand?" However, when they saw the process actually, they clapped and cheered so much. People outside of Japan seemed to want to know the techniques so that they could adopt one of the techniques into their works. So, when they knew "ichimonji-bokashi," they express it with their etchings overlapped with the woodblock. I would say that it is the same feeling when Van Gough and Monet were influenced by Ukiyo-e from the exotic country of Japan.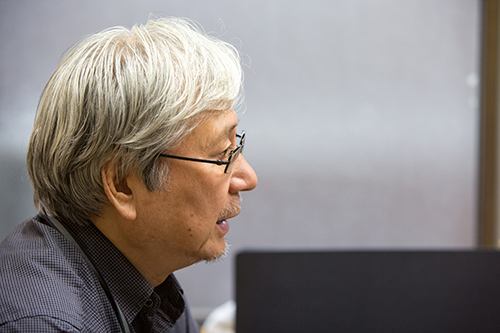 Tell us the challenges and accomplishments during doing woodblock printing work.
Well, it is different from a challenge, but there have been Ukiyo-e woodblock prints for many years. That means previous works are examples. I am thinking all the time that I am trying to complete works to get close to them. As for an accomplishment, when I was young, there were not so many opportunities to exhibit my work. We just made it, shipped it, and that was that. However, it is not same now. The administration plans exhibitions, introduces them at various occasions, allows us to teach at universities, and so forth. I am glad and think I have been rewarded when students came here, and I started teaching them.
Mr. Sato showed us many excellent works other than Ukiyo-e woodblock prints, also.
He showed us the rubbing process.
(*Click picture to enlarge)
Katsushika Hokusai "Tokaido, Hodogaya" from "The Thirty-six Great Views of Mt. Fuji"
Using stirrer, put the paint on to the carved woodblock, and spread with brush

Place paper to match the mark on the woodblock

Rub the surface while putting all the weight on the baren

Take off paper from the woodblock after every layer of color is added

Omohan of "Tokaido, Hodogaya" from "The Thirty-six Great Views of Mt. Fuji"

Stirrer, paints, brush, and baren
Important tools for woodblock printing masters
They are like a part of the master
Utagawa Hiroshige Beautiful Flowers and Birds "A Mate in the Pond"
| | |
| --- | --- |
| | Using stirrer, put the paint on to the carved woodblock, and spread with brush |
| | Spread paints with brush |
| | Place paper to match the mark on the woodblock gently |
| | Completed Beautiful Flower and Birds "A Mate in the Pond" |
Below you can purchase "The Thirty-Six Great Views of Mt. Fuji" by Katsushika Hokusai made in
Sato Woodblock Print Center